This Diwali get your Loved Ones the 'Gift of Good Health', Courtesy Cake Flowers Gift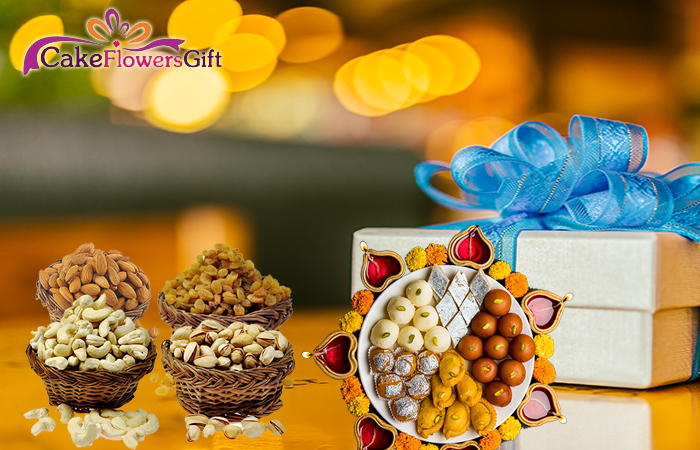 Diwali, known as Festival of lights acknowledges success of good over evil. We all wait and celebrate Diwali festival with immense pomp and zeal. This festival marks a new beginning by wiping out darkness of ignorance. All the more, it is beautified with diyas, candles, and not to forget exchanging Diwali gifts. Do you know when Diwali is in 2022? Yes, it is on the 24th of October (Monday). Just few days are left to have fun and enjoyment in Diwali.
As per the tradition, Diwali celebration is all about burning candles, illuminating your house with diyas, making rangolis, bursting fire crackers, performing rituals, buying new Diwali dresses and having small get-togethers with your loved ones. In the recent years, the trend has changed in terms of gifting items during Diwali. No doubt, Diwali gift hampers are well-liked by the masses. And, if you are in the lookout for healthy Diwali hamper, then nothing is better than Diwali gift dry fruit box. These are some healthy munchies that one can have in winters. So, why not be different and think of good health of your loved one this Diwali?
Especially-Crafted Healthy Gift Items for this Diwali
Are you thinking too much about Diwali gifting? Fret not; when CakeFlowersGift are here you do not need to worry at all! Now, it's time to convey Diwali wishes to your loved ones in a way they never expected from you. We are all set to serve you with exclusive and healthy Diwali gift basket. You can browse through our collection of especially crafted Diwali gift hampers for your family and friends. Surely, it will be a great gifting option for you all and will make your occasion all the more unforgettable. So, be ready to see that smile and joy in your loved ones face.
If we talk about the gifting ranges, shoppers nowadays hunt for healthy Diwali gift item. People are so health conscious that they want to gift something healthy to their loved ones. Apart from dry fruits, Diwali gift sweet box is also an amazing option for gifting purpose. Diwali gift sweets are an integral part of this festival and you can team it up with beautiful diyas for Diwali.
Sweeten your Tooth with Chocolate Hampers for Diwali
Chocolates, all-time favorite of all age groups can never fail to amaze anyone. If you are confused as what to gift to your loved ones, this Diwali, then chocolate for Diwali gift is the safest option. You will never see anyone saying 'No' to chocolates. It will certainly make your festival all the more memorable. Everywhere, you will see happiness and smiles, which is a good sign. Without wasting much time, you must start your search for best and healthy Diwali gift items for your loved ones. Just make sure that whatever you gift is appreciated by the receiver.
Recent Blog: Buy Special Diwali Gift Hampers for Your Special People