Most Impressive Wedding Anniversary Gift Guide for Parents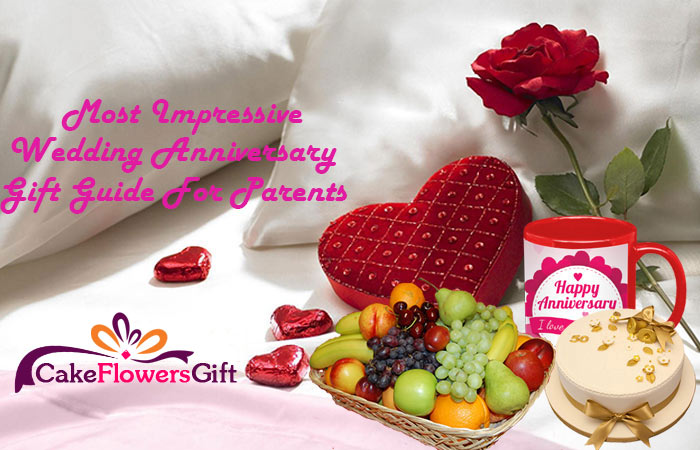 Wedding anniversaries have been celebrated since the ancient times and the giving of traditional gifts for a particular year has been the practice to use it as a symbol to determine how long the couple has been together. The longer the couple has been married, the more precious the corresponding symbol to signify the strength of the relationship. Wedding anniversaries are celebrated each year by the couple to remind them why they have decided to get married. When it comes to the anniversary of your parents, the gift has to be the best. Here are some of the amazing wedding anniversary gifts for parents, order now and bring a wide smile on their faces:
* Jewellery: Celebrating silver jubilee with your parents? Planning to gift something valuable and beautiful to the most important people in your life? A beautiful set of jewellery always works. Look into the internet and find beautiful jewellery items for your parents. You can go for pearl studded bangles, diamond earrings and pendant for your mother and elegant bracelet or watch for your father. Even if you are away from them, then send anniversary gifts online using anniversary gifts online delivery and wish them with a packet full of love.
* Flowers: Everybody is aware that flowers are the symbol of expression, love and passion. To express your feelings, nothing works better than flowers, may it be for your girlfriend, parents, colleagues or any other relation. On your parents' anniversary, order a beautiful bouquet of fresh roses, lilies and orchids and send anniversary flowers bouquet using same day flowers delivery service from the website.
Related Blog:- Send Gifts to India Same Day with Discount from cakeflowersgift.com
* Chocolates: As times passes, you grow and your parents grow older. By every passing second, your parents are growing old and they tend to forget the joy of life. Send anniversary chocolates to your parents on their anniversary and bless them with a lifetime of sweetness, belongingness and love. The chocolates are best known to add happiness, joy and compassion in life, so, why not send chocolates and let your parents enjoy like a child once again?
* Heart-shaped Cake: Cutting a cake on special occasions is mandatory. Feeling sad that you are away from your parents on their anniversary? Well, let internet play its role and help you to stay connected with your parents. Choose amazing anniversary gifts and a delicious and mind-blowing heart-shaped cake for them. Send gifts to India along with cake by making the best use of anniversary cake delivery service from the website and let them feel your presence. You can also choose number cake from the website and celebrate the love and bond your parents have by cutting this personalized cake. The website offers same day delivery service in India, so, whenever your order reaches your parents give a Skype call and celebrate the anniversary by staying connected.
To conclude, parents love gifts and love more the gesture behind every gift. So, give a deep thought, choose your gift and make their day memorable by making a few clicks.