Make holi memorable for your special ones using same day Holi Gujiya sweets delivery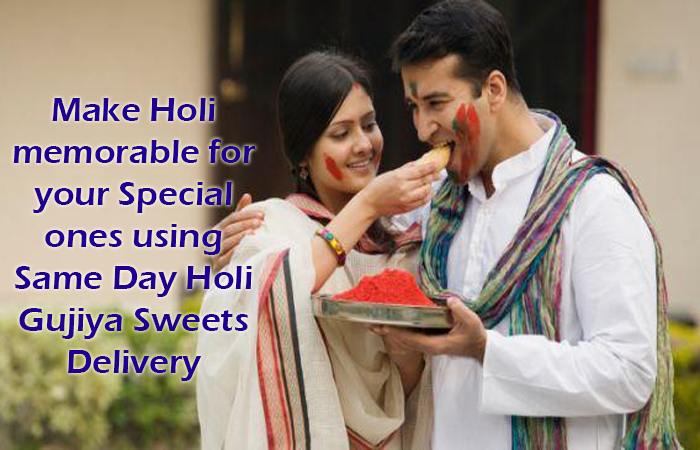 Holi is an amazing festival full of fun and excitement. It is a festival of colours that you enjoy with your best buddies and family and closed ones. Every Indian must be having a huge bank of pictures and memories of this festival from before. The tradition of holi is when younger's touch feet of the elders and apply Gulaal on the feet and the elders bless them with yummy delicacies (Indian sweets). People play holi with wet and dry colours and kids throw water balloons on each other. Like any other festival even Holi has importance of gifts.
Giving gifts has become a tradition nowadays and people have started buying gifts online, and these online portals have some amazing Holi gift ideas that would enhance the fun of the festival for your loved ones.
Gifts for Holi that would double the happiness of your loved ones
Holi is a traditional festival so start with traditional sweets Gujiya, Bhaang ke ladoo, Thandai and other Indian sweets. Buy these mouth watering savouries and make Holi memorable for your special ones by using the same day Holi Gujiya sweets delivery and keep up with old charm and beauty of the festival. You will get one of the best Holi gifts online for everyone.
Holi Gifts for parents: Send exciting Holi gift hampers to your parents. Let your parents also be a part of this vivacious celebration, Send them Herbal holi colours, lal Gulal, or scented and gulal to keep the skin and eye safe. Double the zeal with these amazing gift ideas.
Holi Gifts for wife: Holi centric jewellery, this is one of the hot gift items loved by all women, and I am sure your wife would love to be pampered with a beautiful piece of jewellery on this occasion, so send a beautiful wrapped up gift online at her door step and surprise her with your love.
Holi Gifts for husband: Every woman expects and dreams a wonderful Husband. So make your bond special by giving Holi gifts online this year. Get amazing traditional attire for him, some colours, colour spray, etc.
Holi gifts for friends: Select one of the best pictures from yester years and get personalised cushions, it will surely be appreciated by your friends. Apart from these, you can send some colours, Pichkari and order Holi Gujjia sweets online for your gathering.
Holi is a time when people forget all there grudges and get back together for merriment. This festival is about joining hands with family and friends and enjoying every bit f it. The best gesture to express your love and gratitude to your loved ones is through amazing Holi gifts. When you look on the portal search and buy the most popular Holi gifts online for every precious relation you own.
The most popular Holi gifts for 2020 are chocolate hamper, sweet deliveries, personalised gift sets, herbal and natural colours, etc. Buy such gifts and maintain your relations with your dear ones.
Related Blog: Best Holi Gift Ideas, Send Holi Gifts to India with Same Day Delivery