How to Celebrate Kids Birthday in the Unforgettable Ways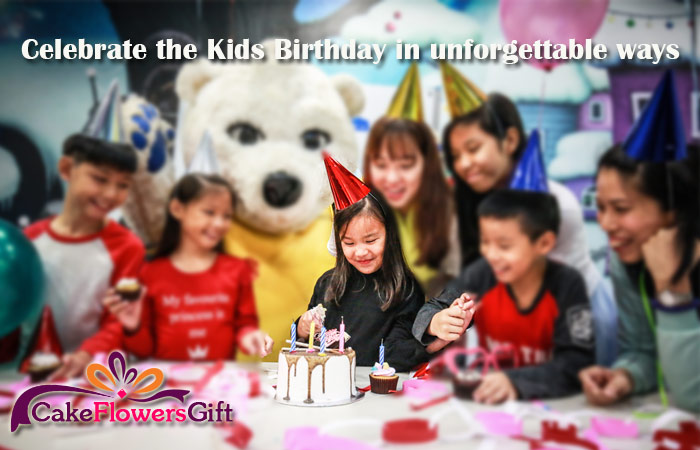 For children, birthdays are the most awaited day of the year. It's very exciting for them to be the centre of attraction, getting colourful gifts and wishes on that day. Well, birthday celebrations are not just about balloons and cakes; it's a chance to reassure the child that they are special and to make lifelong memories. On the special day of your child's birthday, make a promise to celebrate the day like a festival and create as many memories as possible. Here are some of the amazing ideas on How to celebrate kids' birthday in unforgettable ways, grab your favourite idea and start planning:
* Theme Party: Celebrating birthdays according to the theme brings excitement and increases the fun for children. You can pick a theme like Jungle Theme or Bollywood Theme or Classroom Theme according to the choice of kids, co-ordinate clothing and hang props accordingly. If you are planning to throw a theme party, then order designer cakes for your kid's birthday and add another feather to the special day.
* Pool Party: If your baby's birthday arrives during summer, then the best and most fun way to celebrate is by organizing a pool party. Pick a venue with a big, clean and amazing pool having small water rides and take all the kids to enjoy to their full extent. You can go for birthday gifts online delivery service and keep on adding surprises for your kid on his special day.
* A trip to Adventure Park: Kids are very curious by nature and they love to explore different parks. To make your child's birthday unique, why not plan a trip to an adventure park where kids can play and learn at the same time. Hire a team of helpers to assist, choose and send birthday cakes online along with amazing theme based gifts. If your kid has a particular park as favourite, then visiting and celebrating the birthday in that park is like a cherry on the top of the cake moment.
* Treasure Hunt in the House: Kids love to get as many presents they can get on their birthdays. They love the idea of getting new items, pampered gifts and blessings from elderly people. If you wish to give lots of gifts to your kid on his birthday, then plan a treasure hunt starting from his room and let him find all the gifts. Even if you are late in ordering the gifts, no need to worry, use same day birthday gifts delivery service and get all the gifts on time. Make a plan with clues and start his special day with a hunt he will cherish for a lifetime.
Birthdays are those special days that make memories for a lifetime. Send cakes in India anywhere and make each and every birthday of your child memorable. No matter how old your child gets, he will always be your baby, so, never leave a chance to make him feel loved.
Related Blog:- Welcome to Cakeflowersgift to Get Best Gift Ideas for Birthday, Anniversary, Valentine Day or All Occasions