Valentine's Week and Why You Should Celebrate It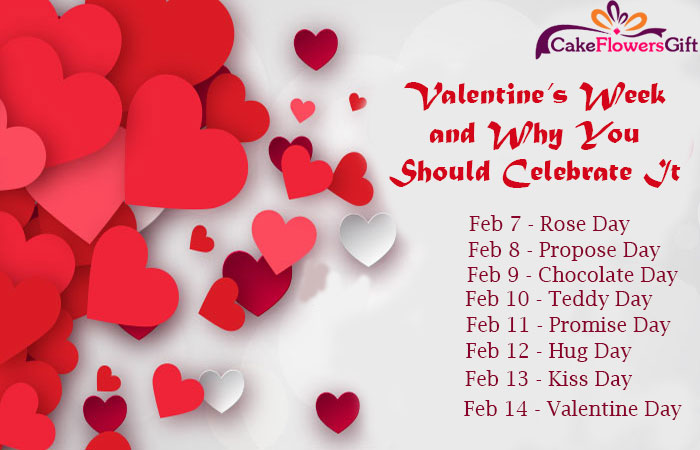 So Valentine's week is just around the corner and is eight days of celebration of love, friendship, and commitment. The day had been named after Saint Valentine and is a day traditionally in honor of St Valentine who was a roman priest in the third Century.
In present times it is related with love and each year millions of chocolates, cards, and flowers are exchanged. Although expression of love is never limited to a specific day of the year only, as a tradition most people enjoy cherishing this week of the year and hence days before Valentine's Day, people start preparations for it.
The week starts from 7th of February till the 14th and is an opportunity for the lovers for celebrating and expressing the affection, care, and love with their better half.
Rose Day, Feb 7th
Week of Valentine's Day starts with the rose day. And people all over the world give roses to their loved ones as an expression of their love.
Propose Day, Feb 8th
On this specific day, you can confess your love to someone that you have had liked for a long time. In case you had not been able to do so, this is the perfect day to ask them to be yours. In case you are shy, you can even say it with a simple greeting card and they will get the hint.
Chocolate Day, Feb 9th
For enhancing the relationship and to woo your loved ones, Chocolate is a gift that no one can resist and makes them happy. One gifts chocolates to their girlfriend/boyfriend on this day. Any day this gift is appreciated by everyone.
Teddy Day, Feb 10th
Most of the times women are the ones that have a liking for these soft Teddy Bears. So guys, get ready for winning her heart on this Day by sending some cute and adorable teddy bears.
Related Blog:- Express Your Love with Top 7 Last Minute Romantic Valentine Gift Ideas
Promise Day, Feb 11th
Love is not just beautiful flowers and rainbows; it comes with great responsibility and commitment of never-ending love for each other. Promise Day offers the opportunity when you will be able to resolve any issues that you might have and focus on the resolutions that you have for your relationship. Make sure to take vows and make promises that you will keep!
Kiss Day, Feb 12th
This comes on the sixth day of the special week. Couples from around the world have a chance to express their love not just with gifts but romantic gestures as well. Of course, if you are head over heels for someone, and they feel the same way, you might express your love with a kiss.
Hug day, Feb 13th
We are almost towards the end of the week. This is a day for giving a lovable and warm hug to the people you love. Apart from love it also represents protection and the care that you feel for them. It is surely an amazing stress buster and in case you are not near them, just send them a giant teddy bear so that they can get their share of a warm hug from you.
Valentine's Day, Feb 14th
Finally, it's Valentine's Day and for different people love means different things. It can be full of crazy fun, passion for each other and ecstatic. Make sure that you do make your partner immensely loved and cared for on this special Day. You can express it with flowers, chocolates, jewelry or a simple greeting card. Whatever it is, make sure they know they have someone that will love them unconditionally all their life.
Keep in mind, it doesn't matter if you loved and won or lost, it is always going to be worth it and an unforgettable feeling.