Things to Know Why You Should Celebrate Mother's Day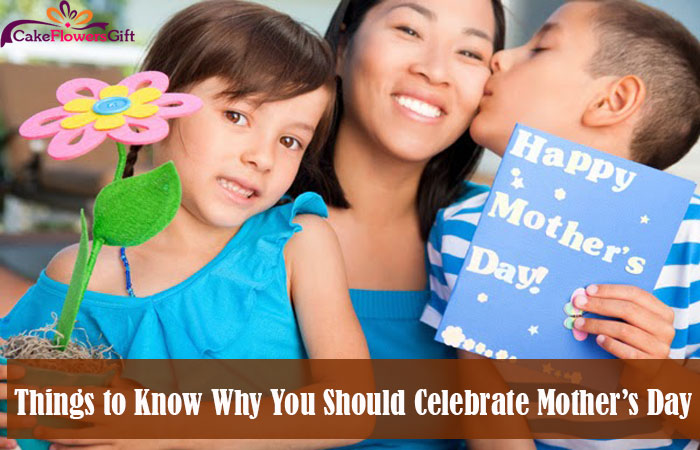 On Mother's Day, the entire world seems to treat mothers with the utmost respect and appreciates her for her love and sacrifices. This year, Mother's Day will be celebrated on 08th of May. People celebrate it with gifts, Mother's Day quotes and love for their mothers. However, gifts and quotes and not all when it comes to Mother's Day celebration. Here are a few things that one must know before celebrating Mother's Day.
* How did it start?
Mother's Day as a celebration did not exist before 1907. It was an American citizen Anna Jarvis who decided to introduce the concept of dedicating a day to honor the love and sacrifice of mothers. She chose the second Sunday of May to be the appropriate day to celebrate it. It was 1914 when Mother's Day was officially accepted as a celebration.
* Unique gifts for the occasion
Mother's Day seems a lot of gifts sent to mothers around the world. The Mother's Day gift ideas that are almost certain to amaze mothers are cakes, flowers, chocolates and personalized gifts. Shop for Mother's Day cakes from an online gift store or present her with a chocolate gift hamper for Mother's Day, your mother will appreciate your effort.
* A sound gifting needs a diligent delivery
Gifting is not complete until the gifts reach its destination. No matter how extravagant your gift is, a sound gifting needs a dexterous delivery. Take a same day Mother's Day flower delivery to send Mother's Day flowers within hours or opt for a midnight delivery to send cakes at midnight. Choose an online website that offers you customizable delivery options. CakeFlowersGift offers you a range of delivery options which include normal delivery, same day delivery, fixed time delivery and midnight delivery.
* More is better
Mother's Day is about showing her how much you love her. Save up for this occasion and go all out to impress your mother. She has never held back when it comes to your happiness and neither should you. Send Mother's Day gifts online and pair these gifts with a beautiful greeting card. Go for combination gifts to make your gifting more impressive. Make your combination gift, personalized your gift to suit your gifting needs.
* Gifts are not everything; your time matters the most
Gifts certainly hold a special significance in our lives, but they are not everything. This Mother's Day, present your mother with your undivided attention. Talk to her, spend time with her, go for a movie, take her out for a dinner, help her in house chores, go shopping with her, cook for her, or teach her how to use that smartphone. Do these and then present her with a gift for mother to garner the widest smile on her face.
Relevant Blog:- 5 Mother's Day Gifts Ideas 2022 for Loving Mother
CakeFlowersGift is a premier gift shop. Do visit us for Mother's Day gifts, we have a range of gifts waiting for you. Also, come to us for tips and suggestion to make Mother's Day or other occasions merrier.