Ten Best Father's Day Gifts 2022 To Give to Your Dad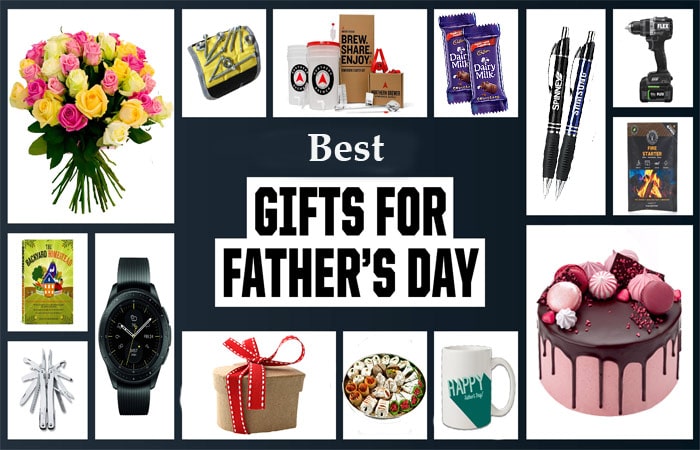 Your dad must be really sweet and must have told you that no gifts for Father's Day, but celebrating the day without gifts is not an option as gifts are the best way to express your feelings and show your respect for him. This day is about him and you must tell him that how much you appreciate his presence in the family and all his efforts to make the family happy. So, find the best Father's Day celebration ideas with the most unique gifts for dad. So, pick Father's Day gift for papa that is useful, meaningful and cool too and you are sure to find some great gifts from the plethora of options online.
Mentioned below are a few Father's Day gift ideas 2022 that might help you to make the day special for your loved ones.
Flowers
They make the most thoughtful gift. You could buy a beautiful floral bouquet for dad, get a special bouquet made with a mix of fresh orchids and lilies or you can also bring him red roses bouquet to show your pure love for him. Flowers help you create a mood. To make the gift thoughtful and impressive you must bring home indoor flower plants which would leave the atmosphere in the house refreshing and will uplift the health too.
Father's Day gift from daughter
For every daughter his father is the ideal man. He is the bench mark of men in life; she holds a special place for him in her heart. So, for her the day is way special and the occasion is super special. You will find a special category of online gifts for dad from daughter and there are ample of options. But if you wish to add a little personal touch to it then buy handmade gifts for dad and send it with a beautiful card that can take your message and true feeling for him.
Cakes
Cakes are delicious mouth-watering and add life to any party or occasion. Celebrate Father's Day with delicious cake for dad. The cake could be a perfect gift especially for new dads, so you may order fusion cakes, KitKat cake, or smiley cakes or you can choose any flavour or design from the many options available online on the gifting portal. You could also make a same day delivery instead of next time opportunity, if you are a little late to pick a gift.
Father's Day personalized gift items
A gift that holds your feelings and sentiments is one of the best gifts. So, pick and choose personalized gifts for dad by adding a personal message or picture. You would get glass photo frame, personalized dad mugs, pens, diaries, table accessories, travel kit and a lot more. Just take a cool or memorable picture of your dad with you and get it printed on the gifting item. It is sure to leave a mark and would remain lifelong with him.
Chocolates
A gift with chocolates or a chocolate hamper would be such a heart melting gift for chocolate lovers. Strengthen your bond with your father by bringing home Father's Day chocolate box you could get Indian chocolates basket or imported chocolate basket as per your fathers' taste or may be a mix of both.
Hampers
A gift hamper would hold all those things that your father loves or you can pick some special things that he has always longed for but has never brought, due to lack of time or maybe he was too busy fulfilling your wishes. So, get different hampers with beautiful packaging for your dad.
Father's Day gift baskets
A gift basket with a beautiful wrapping can leave your father mesmerised. You could add fresh fruit basket or dry fruits to make it a complete and healthy hamper.
Father's Day Gifts from Son
A father is a daughter's pride but he is a hero for his son. They may not talk much but for the son his father is a role model. He looks up to him and wishes to adapt his habits. He loves and respects his father to the core, and to celebrate and express the feeling what could be a better day. So, buy Father's Day gift from son, anything that speaks of their bond or compliments their relation. You can buy him a perfume, shirt, wallet, cufflink, belt, speaker, Smart Watch, etc.
All these gifts will surely melt your father's heart. He will be on cloud nine after receiving such amazing gifts from his children.
Recent Blog: Say 'Love You Dad' On Father's Day in The Most Amazing Ways