Say I Love You with Romantic Birthday Cake Ideas for Husband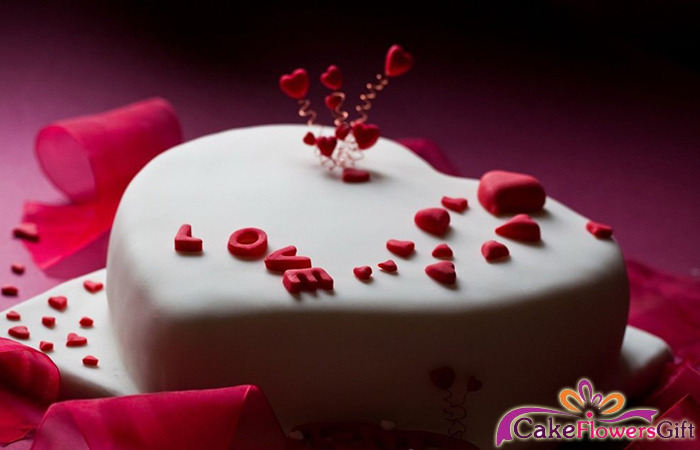 When it comes to a birthday celebration, there is nothing better than a surprise cake and when it comes to a birthday celebration of your hubby? It surely required a romantic happy birthday cake. We understand the importance of celebrating those special moments with your beloved, and what better way to do it than with a beautifully crafted and romantically themed cake? Our collection of romantic birthday cakes for husband is designed to add a touch of love and sweetness. From heart-shaped cakes adorned with delicate flowers to decadent chocolate creations that will melt his heart, we have something for every taste and preference. Our team of expert bakers and cake decorators pour their passion and creativity into every creation, ensuring that each cake is not only visually stunning but also irresistibly delicious. So, why settle for an ordinary birthday cake when you can make it a truly memorable and romantic experience with CakeFlowersGift? Let us help you make your husband's birthday celebration truly special and unforgettable.
Importance of Celebrating Your Husband's Birthday
Birthdays are special occasions that allow us to show our loved ones just how much they mean to us. It's a time to celebrate their presence in our lives and make them feel cherished. Your husband's birthday is no exception. By taking the time and effort to plan a romantic celebration, you can make him feel loved, appreciated, and valued.
A birthday celebration is not just about the gifts and the cake; it's about creating memories and strengthening the bond between you and your husband. It's an opportunity to express your love in a thoughtful and meaningful way. By choosing a romantic cake, you can add an extra layer of romance and sweetness to the occasion.
Romantic Cake Ideas for Your Husband's Birthday
When it comes to choosing a cake for your husband's birthday, there are countless romantic options to consider. Here are a few ideas for best-selling birthday cakes for husband:
Heart-Shaped Cakes
Nothing says "I love you" more than a love design cake. This classic and timeless design is the perfect choice for a romantic celebration. You can opt for a simple and elegant heart-shaped cake adorned with delicate flowers, or goes for a more elaborate design with intricate decorations and personalized messages.
Decadent Chocolate Creations
If your husband is a chocolate lover, a decadent chocolate cake will surely make his birthday extra special. From rich and moist chocolate fudge cakes to creamy chocolate ganache creations, there's a chocolate cake for every chocolate connoisseur. Add some fresh berries or a layer of caramel sauce for an extra touch of indulgence.
Personalized Photo Cakes
Take your husband down memory lane with a personalized photo cake. You can choose a favorite photo of the two of you and have it printed onto the cake. This thoughtful and sentimental gesture will not only make your husband feel loved but also remind him of the beautiful moments you've shared together.
Romantic Floral Cakes
For a touch of elegance and romance, consider a cake adorned with delicate edible flowers. Whether it's a cascading arrangement of roses or a sprinkling of edible petals, floral cakes are a beautiful way to add a romantic touch to your husband's birthday celebration. Choose flowers that hold special meaning to both of you to make it even more meaningful.
Surprise Inside Cakes
Add an element of surprise and excitement to your husband's birthday with a surprise inside cake. Whether it's a hidden message, a pop of color, or a hidden layer of his favorite filling, these cakes are sure to impress. The anticipation of discovering the surprise inside will make the celebration even more memorable.
Unique Cake Flavors for a Romantic Twist
While traditional flavors like vanilla and chocolate are always a safe bet, why not surprise your husband with a unique and unexpected cake flavor? Here are a few ideas to consider:
Red Velvet with Cream Cheese Frosting
Red velvet cake is a classic choice for a romantic celebration. Its vibrant red color and rich flavor make it a standout option. Pair it with a tangy cream cheese frosting for the perfect balance of flavors.
Champagne and Strawberry
For a truly indulgent and romantic cake flavor, try a champagne and strawberry combination. The delicate notes of champagne combined with the sweetness of fresh strawberries create a delightful and celebratory taste.
Salted Caramel and Dark Chocolate
If your husband enjoys the combination of sweet and salty, a salted caramel and dark chocolate cake is the way to go. The richness of the dark chocolate and the decadence of the salted caramel create a flavor profile that is both sophisticated and irresistible.
Lemon and Raspberry
For a refreshing and tangy flavor, consider a lemon and raspberry cake. The zesty lemon flavor combined with the tartness of fresh raspberries creates a light and fruity cake that is perfect for a summer birthday celebration.
Hazelnut and Coffee
If your husband is a coffee lover, a hazelnut and coffee cake will surely impress him. The nutty flavor of hazelnut combined with the boldness of coffee creates a cake that is both indulgent and comforting.
Remember, the flavor of the cake is just as important as its design. Choose a flavor that your husband will enjoy and savor.
Personalizing the Cake with a Heartfelt Message
Adding a heartfelt message to birthday cake for husband is a beautiful way to make it even more special. Whether it's a simple "Happy Birthday with name" or a more personalized message that holds special meaning to both of you, the words on the cake will convey your love and affection.
Consider including a quote or a line from a song that is significant to your relationship. You can also write a short and sweet message that expresses your feelings and appreciation for your husband. The personalized message will show him that you put thought and effort into making his birthday celebration memorable.
Ordering a Cake from CakeFlowersGift
Ordering a cake from our online cake shop is a simple and convenient process. Here's are few simple steps that you can follow to place your order:
Browse the Collection: Visit our website and explore our collection of romantic cake designs. Take your time to find the perfect cake that reflects your husband's personality and preferences.
Customize Your Order: Once you've selected a cake design, you can customize it to your liking. Choose the size, flavor, and any additional personalization options such as a photo or a message.
Add to Cart: After customizing your order, add the cake to your cart. You can also add any additional items such as flowers or gifts to complement the cake.
Review and Checkout: Review your order to ensure that all the details are correct. Provide the necessary delivery information and complete the checkout process. If you wish along with cake you can send birthday gifts online, birthday flowers online or chocolates hampers too to make it extra special.
Sit Back and Relax: Once your order is placed, our expert team will take care of the rest. We will bake and decorate the cake with love and attention to detail, ensuring that it exceeds your expectations.
We prioritize quality and customer satisfaction. We use only the finest ingredients and pay meticulous attention to every detail to create a cake that is not only visually stunning but also incredibly delicious.
Conclusion and Final Thoughts
Your husband's birthday is a wonderful opportunity to show him just how much he means to you. By choosing a romantic happy birthday cake, you can add an extra layer of love and sweetness to the celebration. From heart-shaped cakes to personalized photo cakes, our collection offers a wide range of options to suit every taste and preference.
When selecting the perfect cake design, consider your husband's tastes, the theme of the celebration, and any personal touches you'd like to add. Don't forget to personalize the cake with a heartfelt message that conveys your love and appreciation.
Ordering a cake with us is a hassle-free experience, and our expert team ensures that every cake is a work of art. Add a thoughtful gift to complement the cake and make your husband's birthday celebration truly unforgettable.
So, why settle for an ordinary birthday cake when you can make it a truly memorable and romantic experience? Let us help you celebrate your husband's birthday in style and create memories that will last a lifetime. Place your order today and let the magic unfold!