Personalized Mother's Day Gifts Ideas for Your Mother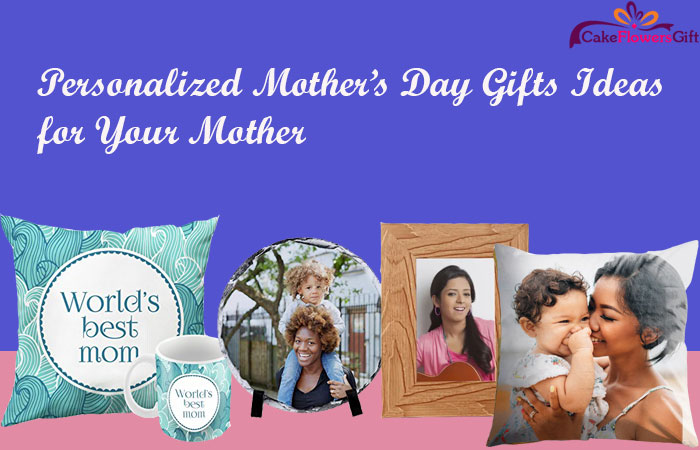 From bringing you into this world to doing everything she can do to make life easier for you, your mother has done it all. She has taught you the meaning of love and care. She is the statue of sacrifice and this mother's day it is the time to honor each and every one of her sacrifices. Present her with the best mother's day gift ideas 2023 and make her feel proud to have you as her child.
Personalized gifts are closest to heart as they carry personal touch to them. Personalized gifts for Mother's Day show the effort that you have made behind the gift. Whether it is a personalized photo frame or you present her with a personalized coffee mug, personalized gifts will most certainly tickle her pink. Here is a list of the best personalized gifts that you can send to her this mother's day.
Personalized Photo frames
Bring back all the memories of the good old days with personalized Photo Frames. Find the cutest and most adorable picture, get them framed in personalized frames and present it to your mother. Online gifts store, like ours, have a plenty of option to choose from. Choose your gift now and send them online.
Personalized Cushions
Soft cushions help relax after a long day of work. Shop for personalized cushions and show your mom how much you appreciate the hard work that she puts in. Apart from giving her relaxation, these cushions will serve as a home décor. Go for a personalized heart cushion with a lovely picture of you two in the middle.
Personalized Stone
A personalized stone is one of the most unusual yet charming gifts. Your mother will definitely like the idea of stone with a personal picture embossed on it. You can also try out the personalized tile to impress her.
Photo Mugs for Mom
One of the most exchanged personalized gifts is personalized coffee mug. Choose a personalized coffee mug and get a heartwarming picture printed on it. You can also go with a personalized beer mug or a pair of personalized wine glasses.
Personalized Key Chains
Something that she is always going to use is a key chain. A personalized key chain is a thoughtful gift reflects your love for her. Besides, this will constantly remind her of the lovely gift you presented her with.
Besides these personalized gifts, you can shop for personalized jewelry, handbags, watches, and wall hangings. Also, you can pair up two gifts to make your gift more impressive. I love you Mom Mug & Cushion or a personalized key chain with personalized stone is the perfect example.
Related Blog:- Impress your Mom by Unique Mother's Day Gift Ideas 2023
Mother's day is the best opportunity you will get to show how much your mother means to you. Take full advantage of the opportunity and make this one of the most special mother's day celebration of her life. Send personalized gifts choosing from our collection and amaze the most amazing person in your life.