How to Celebrate Eco- Friendly Diwali?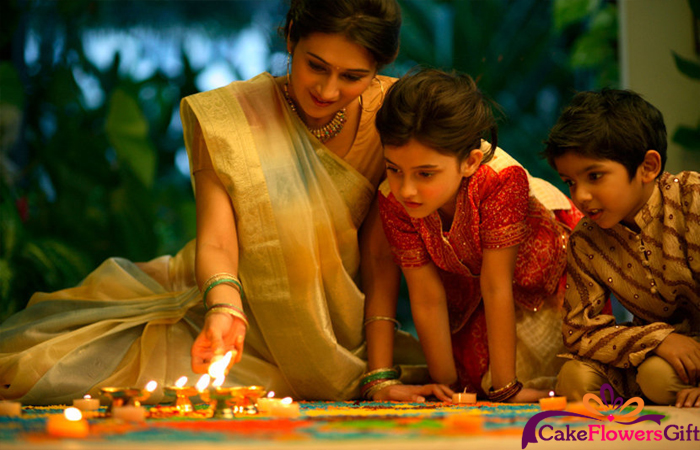 Every year we wait for this auspicious occasion of lights to celebrate it with lots of excitement. We buy new dress, diyas, crackers and sweets. Diwali embark the triumph of good over bad and enlighten every corner and remove darkness. Diwali brings happiness and many memories back into the life and also the ignored ones. It is the wonderful time to rejoice every moment. On the occasion of Diwali, everyone fire crackers and high decibel bombs which create noise and thick smoke and blurred the building and because of that old people sit in the closed room and dogs get frightened and run away here and there to save yourself. Excessive smoke of crackers urge to tie scarf before going out. The smoke of crackers in the environment work as a slow poison who kills us slowly as it spreaded in the air. So How Celebrate Eco-friendly Diwali.
Well, CakeFlowersGift come up with better ideas to celebrate Eco- friendly Diwali and make the festival more wonderful and memorable.
Lighten up Someone's Life this Diwali
Diwali is the festival of spread happiness all around the world. This Diwali, Not only lighten up your home and decorate it and share happiness only with your loved ones but also bring happiness in someone's life who are less fortunate and needs stuff to celebrate their Diwali. You can make needy ones Diwali more joyous and colorful by giving them diyas, Diwali sweets and new clothes that they can't afford and bring a brighter smile on their faces.
Make Contribution to Educate Children
There are plenty of children in our country who are keen to be educated but they can't do study as per the financial crises and don't have the resources to go to the school for their education. This Diwali, help such children and contribute little bit in their education and make their future bright. So this is one of the finest way to celebrate Diwali as you are doing something good for the needy people.
Go Green
Nowadays, pollution are increasing day by day as more of trees are cutting down. To save the environment, animals and every living being, we need to plant or seed more trees rather than cutting the tress. If the environment is healthy then only you can live healthy and longer. So this Diwali if you fire crackers then also plant or sow seeds for the each cracker you fire.
Celebrate with Family
Diwali is the only festival when we get time from our hectic work and spend quality time with family and friends and celebrate the festival of lights. On the occasion of Diwali, all the members of family reunite and share their joyful moment and play fun games and listen the stories from their grandparents and eat delicious eateries and relive old memories and create new memories with their loved ones for lifetime.
Celebrate Traditionally
We all are living in the era where everything is moving so fast. We eat fast food and drive fast. This Diwali, Follow the tradition of eating traditional Indian sweets like kheel batasha, mawa kachori, barfi and also try to wear ethnic attire like saree, suits and kurta that will look more elegant and beautiful and enjoy the festivity.
Present Gifts
Make your loved ones and others ones Diwali more wonderful and amazing by giving them beautiful Diwali gifts. Gift giving is a best way to express your love and emotion to your loved ones. Not only present gift to your loved ones this Diwali but also present Diwali gifts to poor and needy people. You can gift Diwali sweets, dry fruits hamper and warm clothes and much more and can celebrate ecofriendly Diwali and happy Diwali.
These are the ways to celebrate eco-friendly Diwali. CakeFlowersGift wishes you all a very happy and prosperous Diwali with the message of save environment and spread happiness and celebrate Diwali with your loved ones by saying 'No' to crackers.
related post: best Diwali gift ideas 2022 for your family and friends