Are You Ready For The 7 Days Of Valentine Week?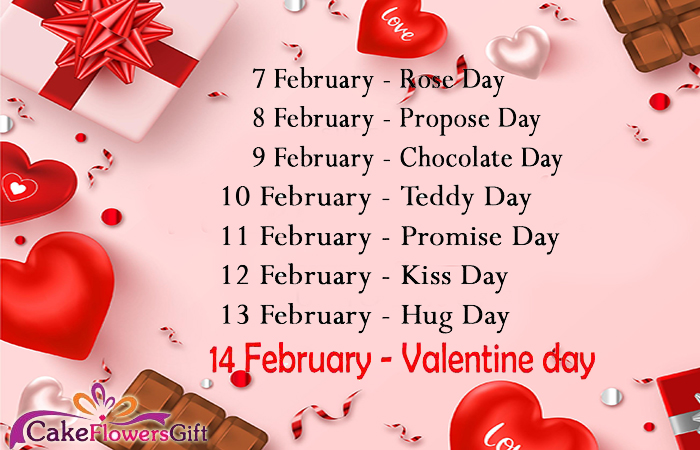 Everyone is aware of the onset of Valentine's Day 2023; after all it's not a small event especially in the lives of people who have found their love of life. The fun brought by this week is immense if you know what to do with it but at the same time running around for the perfect Valentine's Day gifts ideas can be tiresome as well. However the simplest way is to dedicate the particular Valentine's Day gifts to the 7 days of the Valentines week. Now let's see the Valentine's Day week list before you move on.

Rose Day - Feb 7
This is the 1st day of Valentine's Week and is usually celebrated between partners through exchange of different colorful flowers with heartwarming conversations and a scenic view in front of your eyes. Make this rose day special with unique rose day gift for your partner by planning a surprise picnic with them.

Propose Day - Feb 8
This is the 2nd day of Valentine's Week and most of the couples prefer to either take their relationship a step forward or commit to their partners with a promise ring or something similar. This declaration of love brings the partners closer to each other. You could also plan a similar surprise for your partner this propose day. A candlelit dinner and wine accompanying you sounds like the perfect set up for the same.
Chocolate Day - Feb 9
This is the 3rd day of Valentine's Week. This day is particularly filled with extra sweetness due to the inclusion of chocolates here and there, well unless it's dark chocolate. If your partner is the perfect example of a diehard fan of chocolates, here is your chance to win her heart in moments this chocolate day. Forget a rose bouquet; a chocolate bouquet is all she will love as Chocolate Day Gift.

Teddy Day - Feb 10
This is the 4th day of Valentine's Week and by the time you realize it, you are halfway through the week. This is the middlemost day and the cutest one at that just like any middle child in a family. Who would dare to say that stuffed toys aren't cute? No one! So without any delay buy your partner a teddy bear double his size and make his Teddy Day a memorable one.

Promise Day - Feb 11
This happens to be the 4th day of Valentine's Week. Don't we all make promises at different points of time? However, promises made on promise day just feels something and something more special than the regular promises we make. Promise good things to each other on this day and carry those forward. After all, healthy promises are the root of a happy bond between two people.

Hug Day - Feb 12
This is the 6th day of Valentines week and theoretically this is the point, all the previous 5 days where you can get intimate with your partner. However, this is not all about physical intimacy; strengthen your emotional intimacy with each other. That is really how you get to know each other better. Physical intimacy is just a form of expressing love and showing your partner that you trust them with your whole heart.

Kiss Day - Feb 13
Last but not the least, it's finally kiss day, the 7th day of Valentines week. Ever had a fantasy of kissing in Paris standing in front of the Eiffel Tower? Well, it's time to get that done. This would not only be extra special as a partner but also an escape for both of you to someplace different.
Valentine's Day - Feb 14
After all the 7 days of the Valentine week and tons of things and bucket list activities that are ticked off, it is finally the time for the big day, Valentine's day. You can do something huge such as presenting Valentine's Day hampers for your partners to small things like spending time with them.