5 Easy Ways To Decorate Diyas At Home For Diwali 2022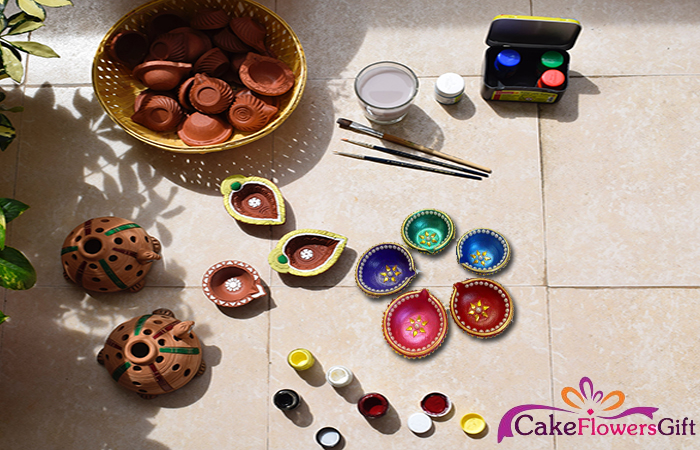 October is just round the corner and we are all excited to celebrate the festival of lights. Diwali is actually the most magical time of the year. It is all about traditions and customs and not to forget DECORATIONS! We all look for gifting ideas for Diwali as well as decoration ideas. There isn't a single doubt in the fact that we all love decorating our houses on this occasion. Diyas make up the most significant part of it. What can be more fun that looking for wonderful Diwali diyas online.
Decorating diyas is a bonding activity that we do with our loved ones and we make sure to include it in gift items for Diwali. From paints to rangolis to seashells, the options for decorating diyas are endless. Now let us have a look at the ways of decorating diyas at home for Diwali 2022:
Pour on Some Glitter
Apart from buying Diwali diyas online, you need to buy some glitters as well. This will add glam to the diyas and will give that amazing WOW factor! To be more precise, the festival is incomplete without that shimmery effect. Sprinkle the different color glitters on the diyas and make it look all the more beautiful. In fact, this DIY diyas can be the best gift on Diwali for your near and dear ones.
Place String Lights
Decorate diyas at home this Diwali. What can be more exciting than this? And after this, you can include it in your list of gifts for Deepavali. Using string light will keep up the festive mood. With that create beautiful patterns to give an elegant look inside your home.
Colorful Turmoil
This idea will surely take you to your childhood days. It's time to show off your skills this Diwali. Get paintbrush and different colors for clay diyas. Paint those colors on the diya to give it a dazzling look. You can master your skills while painting the diyas for the upcoming festival. Moreover, to add an element of personal touch, you can make it a gift for Diwali along with some hamper for your loved ones.
Use Seashells to Decorate Diyas
Seashells, the creation of nature will your diya look gorgeous. Just go and buy some seashells. Pick up a perfect seashell and stick it on clay diyas. These shells will give a stirring look to the diyas. Since, this is something different, you can give it as Diwali gift for your wife.
Use Mirrors and Decorative Stones
This is the simplest way of decorating diyas. Gate your favorite shape mirrors and stones and as per your imagination stick on the diyas. In fact, if you want you get more decorating and gifting ideas for Diwali.
The decoration is not just limited to diyas. Diwali lamps also play a major role in it. For that you need to look for varieties of Diwali lamps online. If not for yourself, you can also get it as gifts for Diwali from online platforms. Last but not the least; there is no dearth of online gift for Diwali, you just need to browse the collection here and pick the best online Diwali gifts.